24-02-2020
Stagemarket appointed as Exclusive Distributor for NEXT Truss in Russia
Leeuwarden, Netherlands (February 2020) – NEXT Truss, the fastest growing brand of truss products and stage decks for the event and entertainment industry, today announces its new distribution agreement with Stagemarket, Russia.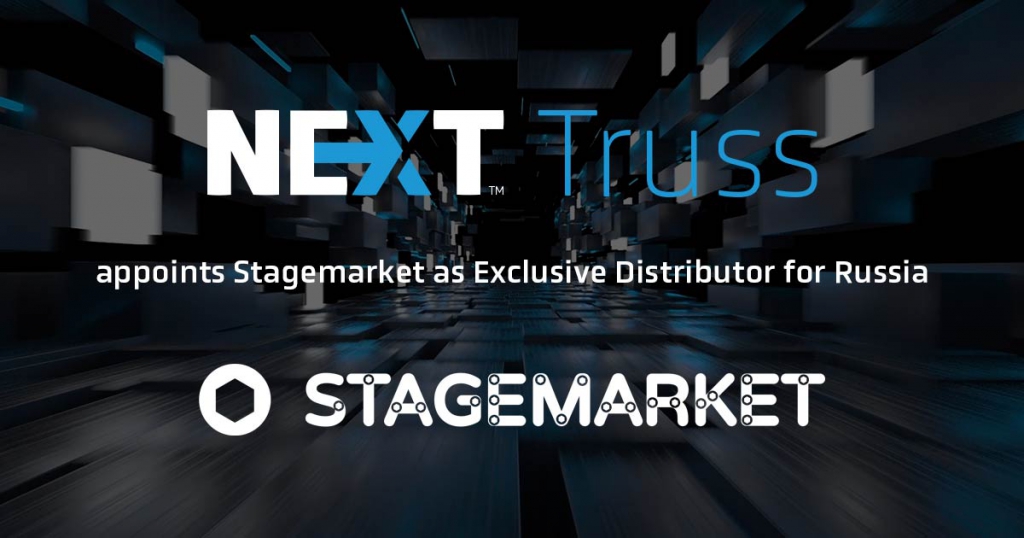 Under this new agreement, Stagemarket will have access to the full range of products in NEXT Truss. Stagemarket also signed the distribution of Eurotruss known for its in-depth knowledge, high quality and extensive range of truss, ground support and roof systems. Stagemarket will exclusively distribute both brands under the Eurotruss Group for the territory of Russia.
Headquartered in Moscow with multiple offices in major cities, Stagemarket is a value-added distributor enabling resellers, integrators and rental companies in Russia to meet the installation requirements of their customers for conferences, festivals and TV applications.
Martin Kuyper, CEO, Eurotruss Group, adds, "This match complements our existing professional partners around the world and positions us for continued global growth. Eurotruss group helps our Distributors meet strategic vertical market needs with one of the industry's most trusted brands. It is an exciting time to join the Eurotruss Group."
Sergey Rybinskiy, Managing Director of Stagemarket, comments, "We have seen the market demand shift over the past year and teaming up with the worlds leading truss company was the logical next step for us. We are looking forward to our collaboration with NEXT Truss and the Eurotruss Group and are confident their experience, high-quality range of products will fulfil our ongoing need to supply the safest and most relevant products into the Russian marketplace."
Ralph Stockley, CEO, NEXT Truss, explains, "NEXT Truss continues to see a trend worldwide for shorter lead-times to satisfy customer demands. Stagemarket is the perfect strategical partner located in Moscow offering local knowledge and will satisfy the demand for NEXT Truss products allowing for quicker delivery times throughout the Russian Federation."
About Stagemarket
STAGEMARKET well-known suppliers of professional stage and safety equipment with its headquarters in Moscow, Russia. A proven, internationally recognised sales company offering high stock levels, knowledge, engineering, design and installation of stage equipment to a wide network of customers spread across the Russian Federation.
About NEXT Truss
NEXT Truss is the world fastest growing truss brand in the entertainment industry. Being a part of the Eurotruss Group gives NEXT Truss the access to high-quality truss products, stage decks and the structural solutions for the entertainment industry. NEXT Truss is headquartered in Leeuwarden, the Netherlands, and has a high-end presence which includes an international network of distribution partners and rental companies that supply NEXT Truss products and back them with customer service and technical support