05-02-2020
NEXT Truss announces the appointment of AED group as European Master Distributor
NEXT Truss is pleased to introduce the AED group as its European Master Distributor for their entire product range. As a total solution provider to the AV industry the AED group enables professional users to purchase, rent or lease products of the NEXT brand through its well-known channels. AED group will hold an optimal stock level for the benefit of every professional customer, together with an unsurpassed professional discount structure tailored to the rental department of the AED group, every professional customer will take advantage.
AED Group is appointed as the European Master Distributor for all NEXT products in the following regions and countries: Benelux, France, UK, Ireland, Italy, Spain and Turkey, in Germany, AED & NEXT Offices will become exclusive co-distributors. AED group makes it possible for professional users to purchase, rent or lease products of the NEXT brand through its well-known channels.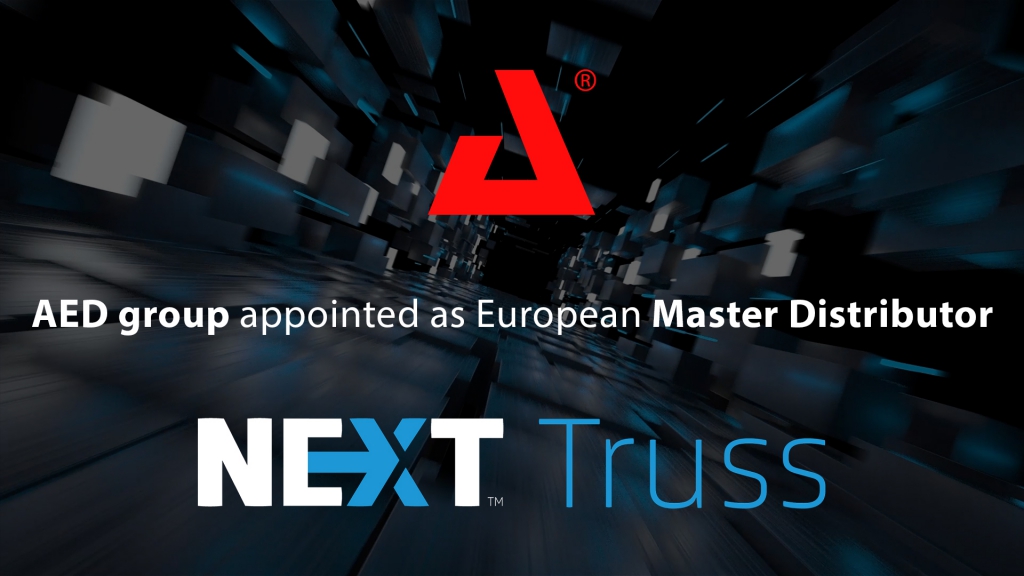 Ralph Stockley, CEO of NEXT Truss comments: "It is with great enthusiasm that we team up with such a well-known player in the industry; AED group offers dry-hire and sales under one roof. With this addition to our distribution network they will provide our customers across a broad range of countries access to our products. Having an existing partnership with AED in the past I am 100% confident they will provide a total solution for the market."
Glenn Roggeman, CEO of AED group, comments: "For nearly 30 years we've set the industry standards with the leading brand in a loyal relationship. Despite this, recent events have resulted in an uncertain situation, without guarantees for the future vision, organizational structure, distribution policy, production capacity and delivery terms. These conditions made us decide to take a new direction, the NEXT chapter. We strongly believe in this new brand, its strong values and clear vision. With the addition of NEXT Truss to our product portfolio, we allow all our existing customers to acquire high-quality 100% compatible products. The recently launched Luxibel decks and truss products will be incorporated in NEXT. Our rental department will carry the full NEXT range, and will hold an impressive stock for dry-hire."
About NEXT Truss
NEXT Truss, a new company within the Eurotruss Group, offers staging solutions and components for the entertainment industry worldwide. NEXT Truss products are built by certified welders in our European manufacturing plant and is made from the highest quality 6082 aluminum alloy. All products comply with the applicable rules and regulations that the industry requires. Our solutions are compatible and offer comparable load figures for industry-leading brands and are guaranteed. NEXT Truss is also very competitively priced.
About the Eurotruss Group
The Eurotruss Group is a leading global entertainment solutions company well known for innovation, design, and engineering of truss and stage products. The Eurotruss Group of companies includes leading brands: Eurotruss, Total Structures, and its latest addition NEXT Truss. Eurotruss Group's mission is to develop and maintain a flexible group of companies on a global basis that offers turn-key rigging solutions for professionals in the entertainment industry. The Eurotruss Group is privately owned and has a workforce of approximately 150 people across Europe and the Americas.