NEXT ARC30 Roofs
NEXT ARC30 Roofs
The NEXT Truss ARC30 Roofs are fixed leg roof constructions on spindable bases, it exists out of 4 legs with three or four arcs, in between pressure beams are attached. It is available as a 6×4, 8×6, or 10×8 meter roof structure., the maximum UDL loading capacity goes from 1800kg up to 2450 kg. The arc shape comes from the curved-shaped NX/NH33 trusses, these curved trusses can be changed to create different configurations. Custom sizes are on request. All roofs are standard included with top and wall canopy, tensioning gear and cross-wiring, and extended manual and structural report.
More information
Facts
Quick & easy setup

The ideal solution for small and medium-sized events

Due to curved shape a significant loading capacity

Options for expansion and upgrade are available
Product information
At NEXT Truss, we understand that every event may require a different type/size of the roof. That's why the ARC roof is also available in three different sizes: 6×4, 8×6 and, 10×8. The smaller versions of the ARC roofs are built from NH33 arcs based on NH34 towers and side truss, the arched sections are connected to the side truss by custom welded corner sections. On the bigger 8×10 version the welded corners to attach the arcs to the side truss are replaced with special attachments and box corners for a better-engineered design.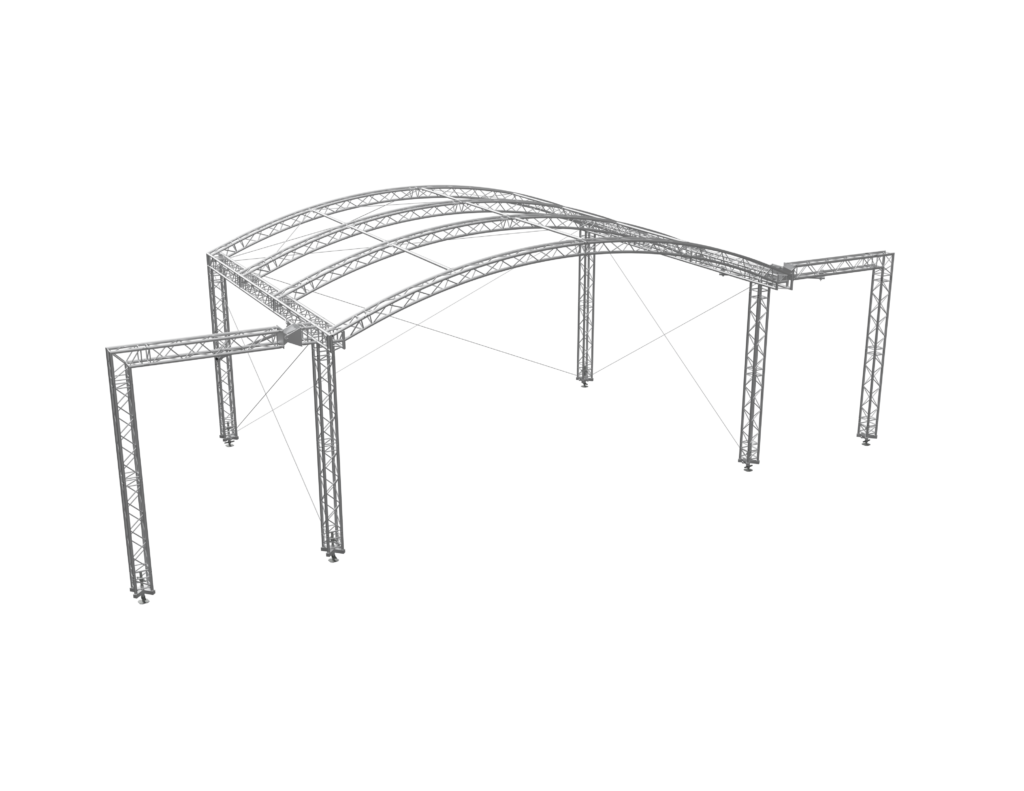 International Standards
The standards of the design are based on recent Eurocodes 1,3 & 9, these are high standard European norms for Structures made out of aluminum or steel. In addition, all our constructions and products are built according to the EN 1090 EXC2 principle. These standards are recognized worldwide, some countries and locations require an addition. A construction book for the german market is not required for the ARC30 6×4 & 8×6.
Canopy & Sidewalls
Standard the canopies are grey on the outside and black on the inside, these are also available completely black. For the sidewalls, the mesh is also available on request.
Ballast
The needed ballast per tower depends on the size and the roof configuration:
Canopies, is the roof only covered with the top, or with the back wall, or complete with sidewalls?
Bases,  with compression or stand-alone bases
Anti-slip material between bases and substrate
Weight of load or stage integration
Wind Control
The ARC30 has a maximum wind speed of 17.8m/s or, 64km/h – 40mph*, this calculation is valid when all the canopies are installed. If the winds reach this speed or above the side and back walls should be removed, after that the Out of Use cables should be attached. At this point the construction can hold upwind speeds up to 28.0m/s – 100km/h – 62mph*
*(maximum speed of wind gusts)